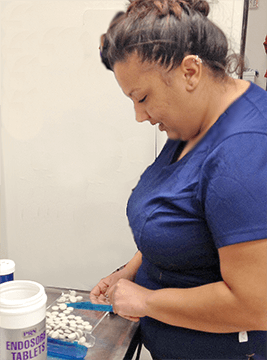 In keeping with our goal to provide the best care and treatment possible; The Family Pet Veterinary Hospital's convenient in-house pharmacy is well stocked with a wide range of veterinary pharmaceuticals from routine to specialized medications in order to quickly meet your pet's medication needs. We offer generic medications to help keep finances in mind.
Our trained and licensed staff fills all prescriptions with care and attention to detail. We work closely with you to determine your pet's specific needs. Medicine doesn't work if you can't give it to your pet. We will work with you to find a formulation, be that pill, liquid or transdermal gel that is effective for your family. If your pet needs a compounded medication or unique formulation we will order this through our online pharmacy which ships directly from the drug company to your door. We provide you with accurate information about your pet's medications such as proper dosing information and potential side effects or drug interactions. Our team is experienced in administering medication and can give you tips and advice on how to give the needed medications.
New Prescriptions are filled while you wait.
(48 hours notice is appreciated for refills)
I am done. I am done looking for a great place to entrust with my current and future animals' health care. The Family Pet is the best Veterinarian office I've ever gone to in all of Seattle...and I've tried quite a few! They just have it all..."~D.A.