Animal Loving Full Time Veterinary Receptionist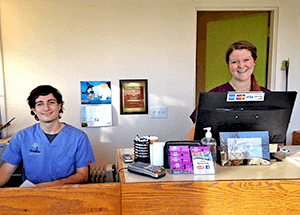 Are you passionate about people and pets? Do you have a big personality and enjoy laughing, singing, candy, and caffeine? Would you like to be a part of a hard working crew that gets along (no joke!) and keeps a running pace to practice the gold standard of quality, compassionate medicine that ALL fur-babies deserve?
Well, if you can answer yes to the above questions and are a competent team player with a positive attitude and reception experience, The Family Pet is the place for you!
We are a well established practice that has been a staple in the Ballard community for over 70 years and truly embrace our motto "Where Pet's are Family Too". We are seeking a motivated dependable full time (35-40 hrs. per week) receptionist who is looking for long-term stable employment, and possesses super star customer service skills along with a willingness to take that extra step to send our clients and patients home happy :)
Important Job Duties:
Being the face of the company and greeting our clients with a smile and cheerful attitude.
Maintaining a calm disposition in the face of chaos. Our practice can be busy so the multi-tasking gene is required.
Documenting and accurately updating patient records using Ezyvet, our cloud based software.
Answering a multi-line phone system and relaying detailed messages.
Keeping the front office and rooms clean, organized, and sanitary.
Reviewing and processing payments
Providing quality information to our clients to address any issues or questions they may have.
Other Important Skills and/ or Requirements:
High School Diploma or GED
Good written and verbal communication skills
Must be flexible and stay late if necessary
Must be on time and ready to work for assigned shifts, including at least one weekend day
Ability to lift a minimum of 40 lbs. and the ability to stand for a full shift which is usually about 10 hours.
WE HAVE AN AMAZING BENEFIT PACKAGE THAT IS AVAILABLE AFTER 90 DAYS
Discount Services for Your Pets
Medical/ Vision/ Dental/ Life Insurance
Uniform Allowance - $280.00
Sick and Safe Time
Paid Vacations (coming soon)
Not only do we have amazing benefits, but we have a wonderful team of individuals that deeply care about one another. We aren't just co-workers, we are family! We have an annual Christmas Party, go tubing in Fall City during the summer months, have a Friendsgiving potluck, other get togethers, etc. all ideas are welcome.
Previous Veterinary Reception experience preferred, but we are willing to train the right person!
Please email your resume and a cover letter as either a .doc or PDF file to [email protected], Subject: Veterinary Assistant Resume, explaining why you would be the perfect fit for our team. If you are a candidate for an interview you will be contacted.